Micro-dermabrasion
Get back into the skin you were born with
Micro-dermabrasion, removes dead and flaking skin cells to create an immediate improvement in your skin's appearance. This unique approach stimulates the production of fresh young skin cells and collagen.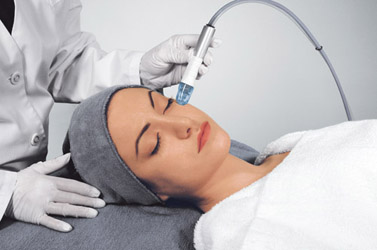 Frequently asked Questions
1- What effect does Microdermabrasion have?
Treatments are gentle and take very little time, yet help to minimize fine lines, age spots, and acne scars. Regardless of skin color, the skin becomes softer, smoother, and younger-looking after treatment.
Your skin is polished with the aid of a delicate hand piece through which micro-crystals are vacuumed. Satisfying results are achieved with this gentle abrasion in as little as twenty minutes.
2- How soon will I see results?
After just one treatment your skin will have a fresh pink glow. You will continue to see improvement throughout your treatment program. The number of treatments needed for maximum results ranges from two to twelve.
3- What are the benefits of Microdermabrasion over other procedures?
Microdermabrasion is non-surgical and non-invasive, therefore discomfort is minimal and recovery takes less time. Many people cannot afford to take time off for healing from chemicals or lasers. With Microdermabrasion, normal activities can be resumed immediately.